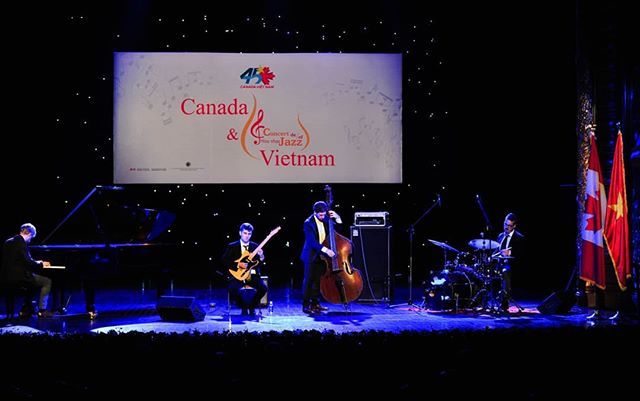 Our recent tour of Asia was one of the greatest experiences of my entire life and I will never forget the places we went, the people we met, and the music that was made. Each of the four concerts of the tour turned out magically for its own special reasons and we hope to be back to that part of the world in the nearest possible future. 
We began in Zhuhai, China, performing at the Beishan International Jazz Festival. We were on a big outdoor stage with a very enthusiastic audience; a great way to start. After the concert we went to a local jam session that was taking place at a club near our hotel, and then some of us went out for Chinese bbq. 
The second performance was at the Hong Kong International Jazz Festival to an large and attentive audience. The festival is directed by legendary concert producer Peter Lee who has founded several jazz festivals across Asia, is a large supporter of jazz education and is the director of the Hong Kong Jazz Society. He was the first person to invite us to that part of the world, and thus, we owe a great thanks to him, and maybe some American tobacco. We also got to open for the great Jerry Bergonzi. What an evening! 
From Hong Kong we moved south to Vietnam where we performed at its capital city, Hanoi, and in its opera house. The 500+ sold-out audience was an invite-only affair and included government officials, ministers, ambassadors and diplomats from around the world. The event was to celebrate 45 years of bilateral relations between Canada & Vietnam. We were extremely proud to be included in this memorable event. 
The final concert was in Vientiane, Laos and was once again coordinated by the Canadian Embassy. This concert was for no other purpose than to showcase Canadian talent, and we did our best to impress. The 200+ audience included the ambassadors from France, Singapore and Australia. After the concert we went out for dinner with some of our new found Laotian friends, and then headed over to the nearest karaoke bar to sing until almost 3am. 
It would be easy to write a massive email about this experience, but I think what would be better is to head over to our social media pages (Facebook) (Instagram) and check out our story through images. A picture can tell many words.......... 
Stay Tuned....... 
Love, 
   B.